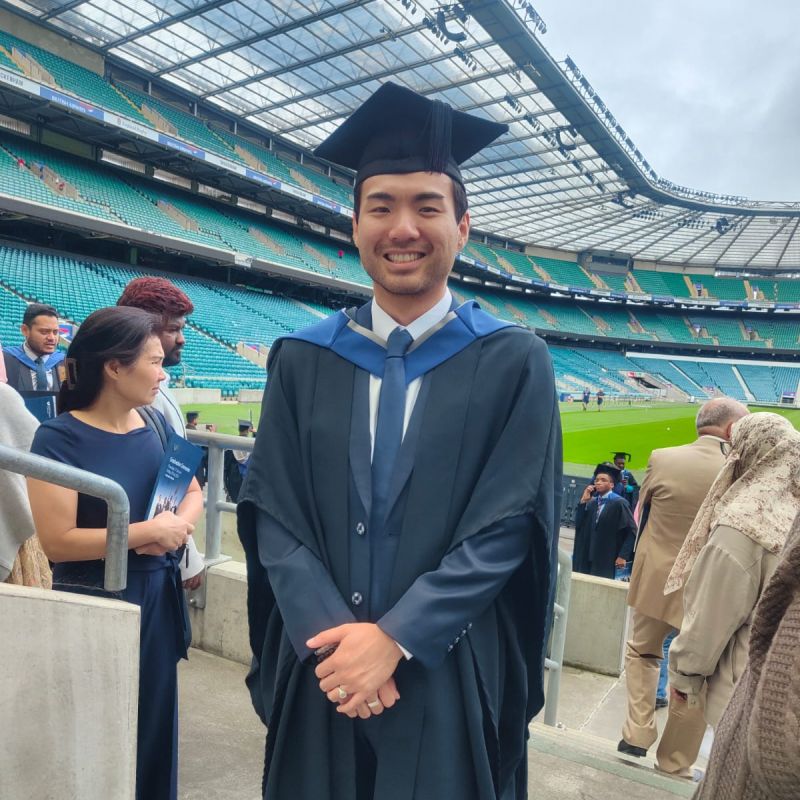 Growing up with a love of technology, Sam Tran, joined us as a Junior Developer after graduating with a BSc (Hons) in Computer Science in June of this year, to put his passion into practice. We grabbed Sam for a chat about what it's like to start your career within the complex world of coding, his interest in innovation and the benefits of working within a team.
1. What is your job role?
"I am a Junior Developer here at 4FX and my role involves assisting the development team in coding and maintaining software applications. I work closely with Senior Developers to learn and contribute to the development process and troubleshoot and debug issues."
"It is exciting to be a part of the team and contribute to the growth and success of 4FX through my coding skills and enthusiasm for technology."
2. Why did you want to become a developer?
"From a young age, I've always had some sort of technology around me all the time. Whether it was a games console or a laptop, it was impossible to separate them from me much to my mum's dismay haha. I realised that becoming a developer would allow me to create and shape similar memories for others that became such a huge part of my life growing up.
"Becoming part of the 4FX team marks the culmination of years dedicated to chasing my tech dreams. Not only does it merge my previous experiences with my academic tech knowledge, but also enables me to be a part of a team that shares a passion for innovation and making a meaningful impact."
3. What does a typical day look like?
"It may sound cliched, but it's true: a regular day as a Junior Developer at 4FX is so different from the day before. On some days, I might be building a user interface from scratch and translating design concepts into functional code. Other times, I could find myself troubleshooting and resolving bugs, working closely with the team to ensure the seamless operation of our software.
"The variety in tasks keeps things interesting and means I'm always learning. There is also a constant chance to collaborate with experienced developers, soaking up their knowledge and expertise. As a junior team member, I'm continually expanding my knowledge of coding practices, tools and techniques. While the challenges can be demanding, the sense of achievement from overcoming them, along with the thrill of ongoing learning, creates a nice balance."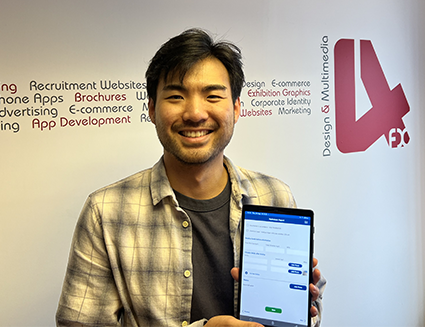 4. What are the main things you have learnt since joining 4FX?
"Since joining 4FX, my learning journey has been incredible. One of the significant parts of my role is working with ASP.NET, which has become so important in my development experience here. In my first week, I had an amazing opportunity to work on a live project under the guidance of our experienced lead developer, Adam.
"This hands-on experience allowed me to really get stuck into web and app development, focusing mainly on Xamarin Forms. Not only that but the experience showed me the supportive environment at 4fx and their understanding of how to supplement my learning journey to the fullest. Working under Adam's guidance, I gained lots of valuable insights like best practices, coding conventions, and project architecture. This amazing experience has really boosted my confidence."
7. What did you do before 4FX?
"Before jumping into the tech world, I had a rewarding time in the social care sector. I treasured every moment there, but the idea of enhancing lives using technology was too obvious to ignore. It made me realise that becoming a developer would let me channel my curiosity and contribute to the world's transformative tech wave."
"This realisation pushed me to pursue a degree in Computer Science. The idea of taking ideas and watching it slowly turn into a cool working product using code was such a mind-blowing idea to me. Throughout my studies, I learnt about core coding concepts, established a strong foundation in computer science principles, and developed a strong desire to thrive in the dynamic, fast-paced tech world."
8. What do you enjoy about working with the 4FX/CodeHub 200 teams?
"Working with the 4FX /Code Hub 200 teams is great. The office vibe is fantastic and it's clear that everyone's got each other's backs. If I hit a coding problem or need to brainstorm ideas, I know I can count on any of the team.
"What's even better is that this is a place where you can try things out without feeling the pressure. It's a safe space to experiment, learn, and challenge yourself. I've tackled tasks I never thought I could."
9. What do you enjoy doing when you are not at work?
"Movie nights! Every weekend, I'm at the cinema watching anything and everything. I love travelling and exploring so if I'm not at the cinema, I'll be out somewhere at a café, shopping centre or a national park making new memories with family and friends.
"I enjoy eating more than cooking but I can make a mean spaghetti Bolognese, haha!"
"I'm also a volunteer at my local food bank, plus had a brief stint as a semi-professional video game streamer during lockdown."
Chris Coomber, Co-founder and director at 4fx, says…
"Sam really has come in and hit the ground running, which is no easy ride fresh out of Uni. I've been impressed with Sam's ability to listen and learn and we're looking forward to seeing the progression over the coming months, Sam is enthusiastic and tenacious, two great assets for a developer, I think he will be a great asset to the team.
For more information about working with 4fx, visit www.4fx.co.uk.